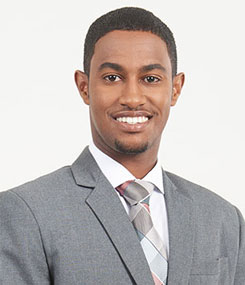 Ricardo Dystant, BSc, MBA
Chief- Digital Transformation and Special Projects
Ricardo Dystant joined Jamaica National Building Society, now JN Bank, in March 2006 as Senior Clerk – Security Systems Operator and was promoted in July that year to Risk Analyst in the Risk Management Unit.
He was transferred to the Business Development department as Business Development Specialist in September 2008 and was later promoted to Manager, eChannels and Discount Business in April 2011. In September 2017, Ricardo transitioned into the role of Head – eBusiness Sales.
Mr. Dystant was appointed Chief – Channels on May 1, 2018, with the responsibility to ensure consistency in our members' experience across all channels as we continue to transition our members to increase usage of electronic channels, while continuing the build out of our consultative branch model.
He holds a Master of Business Administration in Banking and Finance from The University of the West Indies and a BSc. in Computing and Information Technology from the University of Technology Jamaica.