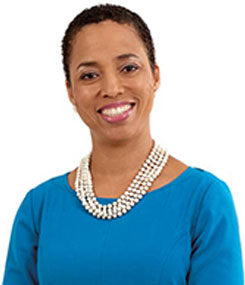 Keisha Melhado-Forrest, BSc., MBA
Chief – Process Improvement and Innovation
Since joining the JN Family in 1992, Keisha Melhado Forrest has steadily risen through the ranks – proving herself to be an expert in mortgages and credit risk management.
She assumed the role of Chief – Process Improvement and Innovation in October 2022, reporting to Leesa Kow, Managing Director – JN Bank.
Mrs Melhado Forrest has served in numerous management roles throughout her over 30-year tenure with JN. She started as a Clerk in the Mortgage department of the Jamaica National Building Society and has progressed steadily in that department as Senior Clerk, Supervisor, Assistant Manager, Manager and Senior Manager. She was appointed Executive for Mortgage Operations in 2013 and Chief – Credit Risk at JN Bank in 2020.
Mrs Melhado Forrest holds a BSc. (Hons.) in Management Studies and Accounting from The University of the West Indies and furthered her studies at the same institution, earning an MBA in Banking and Finance from the Mona School of Business.
Qualifications
MBA, Banking and Finance, Mona School of Business, UWI, 2003
BSc, (Hons.), Management Studies and Accounting, The University of the West Indies (UWI), 2001