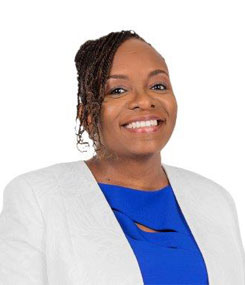 Belinda Clarke Robinson
Chief – Finance
Mrs. Belinda Clarke-Robinson joined the Jamaica National Building Society, now JN Bank, in January 2009 in the capacity of Assistant Finance Manager. She was promoted in September 2012 to the role of Finance Manager and was appointed Head – Finance at JN Bank in September 2018.
Mrs Clarke-Robinson was promoted to Chief – Finance in May 2019.  In this new capacity, her role includes, but is not limited to the preparation and presentation of Management Information Reports to the Board of Directors, Board Sub-committees, and Management Committees for JN Bank.  She sets financial priorities based on corporate business strategy; strategically manages the day to day operations of the finance department; ensures compliance with company policy and best practices; while establishing robust internal controls.
Mrs. Clarke-Robinson holds a Master of Business Administration from the University of South Wales. She is a Certified Chartered Accountant from the Association of Chartered Certified Accountants (FCCA) & Institute of Chartered Accountants of Jamaica (ICAJ).  She has a Diploma in Business Administration (Accounting Major) from the University of Technology.