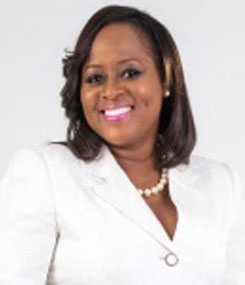 Petal James, JP, MBA, BBA
Chief of Branches
Petal James is Chief of Branches at JN Bank.
A professional banker with more than 20 years in the industry, Ms James joined the JN family in 2016 as Manager, Mortgage Sales. Following the transformation of the Jamaica National Building Society to The Jamaica National Group in 2017, Ms James was promoted to Head of Mortgage Sales of the newly established JN Bank.
Her portfolio was expanded in 2018 to include retail sales, with oversight for the performance of the bank's retail credit products, including unsecured loans, credit cards, auto loans, as well as personal lines of credit. In April 2020, she was promoted to Chief of Branches, with strategic responsibility for the operations of JN Bank's 34 branches and MoneyShops locally, the JN Premier brand and the bank's three overseas representative offices in the United Kingdom, the United States of America and Canada.
Ms James holds a Master of Business Administration in General Management from the Mona School of Business at The University of the West Indies, Mona, and a Bachelor of Business Administration with emphasis on Banking and Finance and a minor in International Business from the University of Technology, Jamaica.
She serves as a Justice of the Peace for the parish of Kingston and is a former Director and the current Assistant Treasurer of the Kingston Chapter of the Lay Magistrates' Association of Jamaica. She also serves as a member of the Association's Lock-up and Visitations Committee, which administers a monthly initiative at the Central Police Station in Kingston, providing mentorship to inmates and supporting rehabilitation programmes.
Ms James is an avid sportswoman, who enjoys netball, badminton, basketball and athletics.