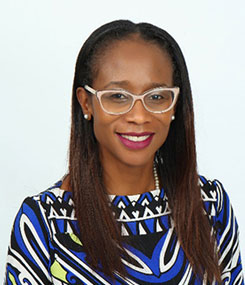 Peta-Gaye Fairclough, BA, LLB
Chief – Risk & Compliance
Peta-Gaye Fairclough joined JN Bank on November 1, 2018, in the capacity of Chief Compliance and Risk.  She reports directly to Leesa Kow, Deputy Managing Director.
A former Chief Compliance Officer at GraceKennedy Financial Group and Group Compliance, Risk and Security Manager at GraceKennedy Money Services Group of Companies, Ms. Fairclough was responsible for developing the framework for the Compliance, Risk and Security programme across the subsidiaries in the GraceKennedy Financial Group which includes banking, investments, money services and insurance.
Additionally, she worked as Chief Compliance Officer/Nominated Officer JMMB Merchant Bank Limited, formerly Capital & Credit Merchant Bank Limited, where she had responsibility for designing and implementing the Anti-Money Laundering and Counter Financing of Terrorism (AMLCFT) programme.  She also had oversight for compliance with laws and regulations governing banking, securities trading, unit trusts, pension funds, and remittance activities, both locally and internationally, as well as internal policies and procedures.
She holds a Bachelor of Arts (Honors) in Psychology from The University of the West Indies, and an LLB (Honors) – Law (company law focus) from the University of Essex.