Michael Sutherland
Michael Sutherland has no biological children of his own, however, he has molded the minds and positively transformed the lives of numerous students who have crossed his path.
Over the course of his 28 years as an educator, Mr Sutherland has mentored many students, who in turn, have moved on to make solid contributions to nation-building. From his years of teaching at Crescent Primary in Spanish Town, St. Catherine; Westwood High School in Trelawny; The Queen's School in St Andrew, and now as Principal of Central Branch All-Age in Kingston, Mr Sutherland's impact has been far-reaching.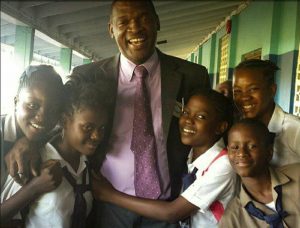 "I see all my students as my children. Even when people say they are bad, or hard to teach, they are all special to me," the JN member and Spanish Town native declared. He admitted to knowing every student, who attends Central Branch and the class to which they are assigned.
For Anneka Williams-Fearon, a past student of The Queen's School, Mr Sutherland was not only a teacher. "He was a motivator, a counselor, a father figure. My own father wasn't around and, therefore, I am grateful to Mr Sutherland for the role he played in my life," she related.
Mrs Williams-Fearon further informed that it was Mr Sutherland who inspired her to enter the teaching profession.
"He's also that voice in my head which continues to guide me, in terms of how I relate to my own students. Mr Sutherland was a wonderful teacher to all of us. He taught us Clothing and Textile, and he also helped us in other subject areas. Even when we were doing Economics, he would assist us to prepare our assignments. He was just an all-around God-sent," Mrs Williams-Fearon proclaimed.
Just like Mrs Williams-Fearon, there are countless other students who were inspired by Mr Sutherland's care and attention to their well-being.
His current mechanic, Shavone Gadas, is a past student of Central Branch All-Age. Shavone admitted that even to this day, he still calls his former principal, if he needs advice about a major life decision.
"If I have a disagreement with somebody, I call Mr Sutherland. Even when I am going to make a move, or do certain things, I call him to find out if he thinks it is a good idea," he related.
Shavone recalled that while in school, Mr Sutherland was never one to discriminate and would treat all of his students as equals. "Me and some of my friends were considered 'bad', but he never treated us any differently," he explained.
"Some of us didn't have breakfast or lunch and he implemented a programme at the school to ensure that we were fed. Sometimes he would take his own food to school and share it with us."
Although he has been a principal for the past 11 years, and is no longer in the classroom fulltime, Mr Sutherland admitted that teaching remains his first love.
"It is just a part of my DNA. I have gone through mentally what else I could do outside of teaching and nothing else makes me feel more fulfilled," he related.
It is partly for that reason that he has decided to offer evening classes to the parents of his students.
"I purchased a Google Classroom domain, with my own funds, and we have started an online class with the parents," he said, noting that they are being taught Mathematics and English Language.
"What has evolved is that both the students and their parents are working together and helping each other. It also encourages the children to do better, because what we also see is that they are competing with their parents."
He further noted that the parents are now in a better position to assist their children, as they are more familiar with the subjects they are learning; and the online platform the students are using.
Was this article helpful?