Customer using coin machine
In a bid to continue providing exemplary customer service to members and cut down the transaction time for services, JN Bank has implemented several innovations including a state-of-the-art Automated Coin Machine (ACM).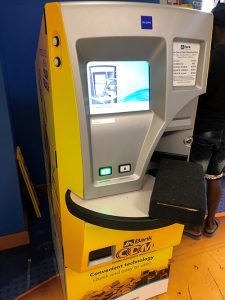 The ACM is located in seven branches island-wide and was designed for members to deposit coins to accounts on their own, at any time during banking hours.
Ricardo Williams, head of branches (eastern), JN Bank, says the machine has several benefits and prior to the instalment of the machines, members had to join lines and go straight to the tellers who would then have to sort the coins by denomination and place them into a coin machine that would be to the side of their counter.
"With the new coin machine, members and customers can now mix any accepted Jamaican coins and put them in the machine together. The machine can accept any amount of coins at one time. For initial use, we have our Member Hospitality Officers who assist persons in getting acquainted with using the machine," he said.
If you have a stack of coins at home that you need to deposit, go to any of these seven JN Bank branches and have them deposited easily and conveniently to your JN Bank account. The locations are:
Half-Way-Tree
Duke Street Branch
May Pen Branch
Portmore Pines
Spanish Town Branch
Savanna-la-Mar and
Market Street, Montego bay