Audrey Williams (right), chief, treasury and investments, JN Bank, presents Kelly Kellier Anderson, Maths Teacher of the Year, with a plaque and a gift certificate, courtesy of JN Bank.
Mathematics Teacher of the Year, Kelly Kellier Anderson, says the COVID-19 pandemic has not diminished her desire to see her students exceed their potential.
She said despite the challenges, she has been making the best of the situation and has been doubling down to inspire her students and to change their mindset about mathematics.
"While the pandemic has brought on a completely new way of life for all of us, I try to motivate them to think positively and to find the opportunities in this crisis," stated Mrs Kellier Anderson.
The 15-year veteran educator, who teaches grades 10 and 11 students at the Irwin High School in St James, was named winner of the JN Bank-sponsored competition in December last year, beating out a total of 66 teachers across six regions.
She was awarded $100,000, a winning trophy and a tablet device.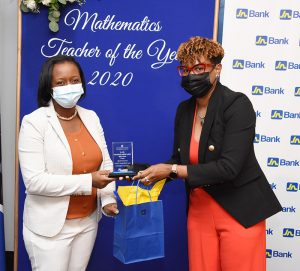 Mrs Kellier Anderson noted that since the start of the pandemic she has seized the opportunity to find more online activities for her students, as well as, improved her use of virtual manipulatives or teaching tools to engage them in the hands-on learning of the subject.
"If every student had better access to computers and the internet, virtual teaching would be the perfect mode of operating," Mrs Kellier Anderson said.
She noted that apart of her overall goal is not only to get her students ready to sit the Caribbean Secondary Education Certificate (CSEC) exam, but to also help to change their mindset when it comes to mathematics.
"I want them to understand the importance of the subject and to apply it to their daily lives. I want them to understand its relevance and how it can help them to reason better and to make better life decisions," she stated.
"Therefore, any topic I'm teaching I try to use real-life examples to bring the lesson across. For example, the other day I was teaching matrices and I try to show them how it can be related to the game of basketball and immediately you can see the change in their attitude."
Though teaching wasn't her first choice, Mrs Kellier Anderson believes she was called to the profession. "The same way some people are called to preach, I believe I was called to teach. It is my passion," she said.
A part of her goal too is to improve her students' passes in the subject. "Last year over 70 per cent of my students received passes. I'm not sure what this year will bring, but I am certainly working hard, and the students are dedicated, so we are hoping for the best."
Was this article helpful?