"Hope River" turned pink as it flowed through Half-Way-Tree, St Andrew on Friday night, when Agent Sasco, delivered the final performance to top a powerful evening of testimonies by women and music by men, in support of the fight against breast cancer.
The stage was set by JN Bank, as it hosted its Solidarity Day Candle Lighting Ceremony and Concert, to cap its month-long #PowerofPink campaign, targeted to raise awareness about the impact of cancer on, especially, women, and underscored the power of early detection and support; as well as, to raise funds for treatment.
Touched by the disease himself, after his mother died from breast cancer in 2005, the popular DJ gave a taste of tracks from his recently launched Hope River compilation and took fans down memory lane with a mix of his hit singles, dating back to his debut on the dancehall scene in 2001, as he paid homage to cancer survivors and those killed by the disease.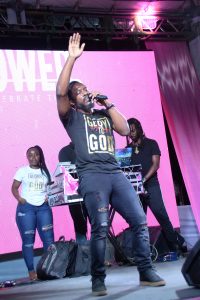 His performance was preceded by a similarly energetic Wayne Marshall, who closed his act with a rendition of his current gospel hit, "Glory to God," after delivering a medley of his former dancehall hits, including collaborations with Vybz Kartel; and top tracks from artistes, such as Beres Hammond, Sanchez and Tony Rebel.
JahDore also gave a surprise performance, delivering his hit song, "Fake People," prior to treating the audience to his skills on the saxophone.
However, the celebration of "warriors" and "survivors" would not have been complete without praises to God, which was led by gospel powerhouses Jermaine Edwards and JN Group ambassador, Kevin Downswell, who entertained patrons with a spiritual experience filled with gratitude and exaltation.
"Breast cancer is a fight we must win!" declared JN Bank's deputy managing director, Leesa Kow, at the beginning of the event. Passers-by in Half-Way-Tree slowed to participate in the ceremony, which started at the front of the landmark JN Bank chief office on Constant Spring Road, before ushering patrons to the bank's upper car park, on Suthemere Road for the four-hour event.
Miss Kow, who has lost close friends to the disease, encouraged women to take greater care to examine themselves regularly, even if they have no family history, or don't meet the typical age for diagnosis.
"We encourage everyone here this evening to get more involved. Volunteer your services to the Jamaica Cancer Society help them to spread the word about early detection. And, most importantly, donate to the cause to fight breast cancer; and in honour of those we have lost," Miss Kow added.
"'The Power of Pink' is about these simple actions, which if we take more seriously, we can save the lives of more Jamaican women," she urged, noting that, as many 300 women die from breast cancer in Jamaica, annually.
Her cry was rallied by survivors, Kamala McWhinney and Heather McDonald, who called on survivors to support each other; and, affirmed that their own survival had gifted them with the ability to help others who are fighting the disease.
"No matter what we go through, as long as we survive, we can use it to help somebody else," Ms McWhinney, who was uncharacteristically, diagnosed at age 30 in 2013, declared. The disease typically occurs in women over 40.
"Be positive and pray," was Ms McDonald's advice. She survived after being diagnosed in March of this year. "Leave it to God and God will see you through."
The event moved some persons to also relate their experiences; and, to call for others to join the fight against breast cancer by supporting victims and their loved ones.
"I'm here as a supporter for all of you who are warriors. I'm here with you," declared Gillian Fraser, a passer-by, who decided to stay for the event having lost several members of her family to cancer, including an aunt to breast cancer.
"Know that there are other people, here with you fighting," she assured survivors.
Was this article helpful?