"To Make Your Dreams LIT, You Have to Believe It"
Young banker tells Mile Gully graduates
Students at the Mile Gully High School in North West Manchester were recently challenged to hold themselves accountable for their success.
The message was delivered by Shevauni Powell, acting branch sales representative at JN Bank's branch on the Mona campus of The University of the West Indies, as he delivered the keynote address to the graduating class of 2019, recently.
The young banker, who is a graduate of the school, urged the students to develop a winning mind-set, and be willing to move out of their comfort zones to pursue their dreams.
Enhancing the meaning of the word "lit", a popular terminology used by young people to mean "popping" or "great", Mr Powell created an acronym from the word to underscore the importance of self-confidence in achieving success.
"For your dream to be LIT, you have to believe it!" he exclaimed, and invited the graduates to repeat it in a chorus.
"First, you need to recognise and accept that you are a leader, no matter how small or insignificant you think you are," he said, stressing the first letter, L, in the acronym LIT.
"Accept that you have a responsibility in this world, and the first person to whom you are accountable is yourself. You are in charge of your own success; and, therefore, no matter your circumstance in life, you should set high expectations and always strive to maintain them," Mr Powell said. "Expect success and nothing less!"
He told the 65 graduates that, in the final analysis, they are responsible for the decisions they make about their futures, and, therefore, they should seek to gather as much knowledge and experience as possible on their journey.
"Not our parents, not our teachers, not Mr Tyme, (principal of Mile Gully High), or the Chairman of the Board. We are responsible for what we learn and how and whether we choose to use what we learn after we leave this high school," he stressed.
Pointing to the many clubs and societies in which he was involved, as a student in Mile Gully and in Mandeville, the 25-year-old urged graduates not to limit their experience and learning to academics, but to get involved in activities and initiatives in the community, which would not only imbue knowledge, but fuel their confidence and prepare them for the world of work.
"Success, requires you to be bold; and you will begin to develop that boldness, as you look at yourself and accept yourself as a leader. Those were qualities and character traits, which participation in extra-curricular activities afforded me," he told the Mile Gully graduates.
Turning to the letter "I" in the acronym LIT, Mr Powell emphasised the power of belief in one's self.
"The second letter, 'I', in LIT stands for 'I can'," he quipped. "You have to challenge yourself. To build your confidence, you must be willing to do what makes you uncomfortable; in other words, you must step outside of your comfort zone. Being comfortable never changed anything."
He told the students not to allow other people's views of them to define who they are, but to learn to transpose the negative tales people tell about them with their own positive stories. Recalling the message of the Danger of the Single Story, by Chimamanda Adichie, which he learned at his own graduation from keynote speaker, Earl Jarrett, chief executive officer of The Jamaica National Group, Mr Powell told students:
"We have to challenge those labels by embracing them and making them our own. Let them call us a 'country school,' because we are way too large to fit in some town or city; and let them call us 'non-traditional,' because we are leaders, who set trends," he said.
"We don't fit in 'boxes like rectangles,' because we think differently, and we think big. Show your 'Gully Pride' and they will step aside!" he said to thunderous applause.
Finally, the young banker encouraged youngsters to give back when they have succeeded, noting that the final letter, 'T', in his acronym LIT, means "Teach."
"Help others. When you attain success, don't forget who helped you to get there," he advised.
"Remember, you never did it alone; and you did not get there all by yourself. Therefore, you should never forget those people networks you were busy building; persons who helped you to affirm your confidence and gave you opportunities! You may not need to help some of them in return; however, you can help others to achieve what you did."
"There is no 'bad mind' in success," he concluded, "because real winners only want to see others win."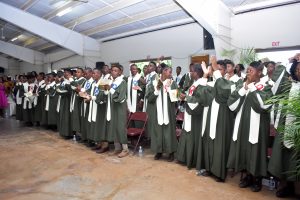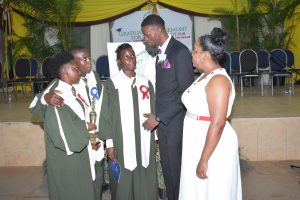 Was this article helpful?